Mezzanine Floor Applications
Mezzanine Floors are a flexible cost efficient solution to create extra floor space in existing buildings. Beautiful in their simplicity, the uprights and beams can build up to hold some of the largest heavy duty floors. With a standard load up to 1000 kg/m2 and a span of up to 10 metres, the mezzanine floor is multifunctional and perfect for additional storage, office and workspace.
Ideal solution when floor space is limited
Increase storage, office and workspace
Does not impact the existing building structure
Can be used with racking or shelving to maximise storage
Hand Rails and Pallet Gates to offer protection
Timber or steel grating floor finishes available
Can be fitted with lighting and sprinklers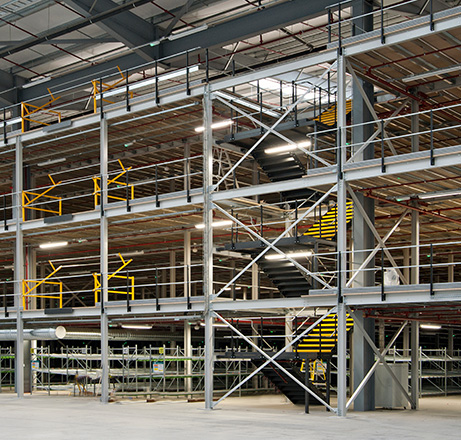 Key Benefits
The need to increase floorspace in warehouses has never been more acute. Industry pressures to hold more stock and parts to counter logistics and supply issues are paramount. Mezzanine flooring and office partitioning provide that extra space without compromising on floorspace.
Economical - Compared to traditional structures or relocating
Optimise Space - Maximise the opportunities of warehouse height
Flexible - Reconfigure as you grow and change
Quick - Easy and fast assembly
Light transparent (with steel grid floors)
Free standing (No additional loads on building columns)
Minimal additional pressure on the foundation floor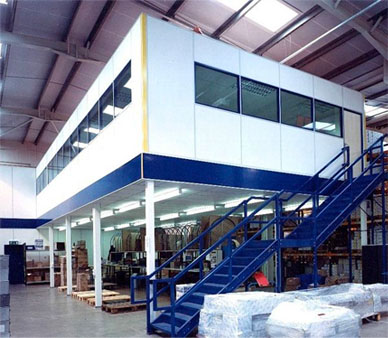 Mezzanine Floor Partitioning
Whether you need to improve the utilisation of space within your warehouse or provide security and safety for your employees, there is a range of systems and products to help.
Mezzanine floor systems and office partitioning provide extra space and offices, while wiremesh systems can protect your work force. A comprehensive range of lockers and cabinets provide secure storage, we even supply systems for labelling and signing your warehouse.
Mezzanine Floor Shelving
A Mezzanine Shelving system, with an interposed mezzanine, is a construction of shelving built into two or more levels. The bottom shelving is the support for the mezzanine floor. Shelving built as this is often used in larger warehouses for spare parts or where the storage of many articles is required often with a low turnover.
IMPROVED STORAGE
More storage capacity than standard shelving on ground floor
Structural mezzanine floor above with additional shelves
No need for pillars to support the second tier floor
Second level often possible due to relatively slim steel grid floor
Thinner floor allows for an additional level of storage
COST EFFICIENCY
Substantial construction cost saving compared to standard shelving on two floor levels
No separate floor purchase required, floor and shelving built as one
Saves manpower and time
Additional storage space makes mezzanine shelving an economical choice
Access and Safety
When designing and implementing a mezzanine solution, safety and access both for products and your team are paramount to it's successful integration.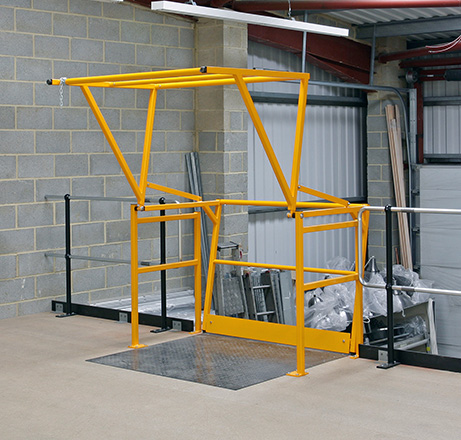 Pallet Gates
Permanent protection when both open and closed. A range a safety pallet gate systems for fork lift and hoist access.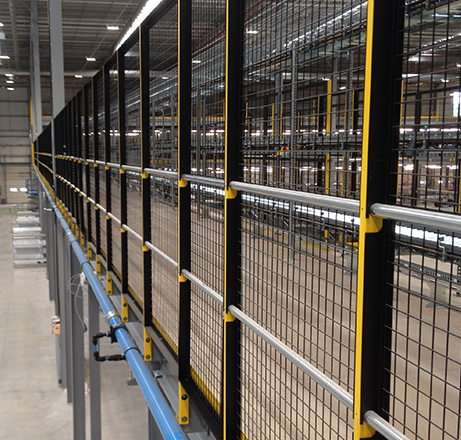 Safety Fencing
The safety of your workforce is paramount. To guarantee this have a range of safety rails and fencing.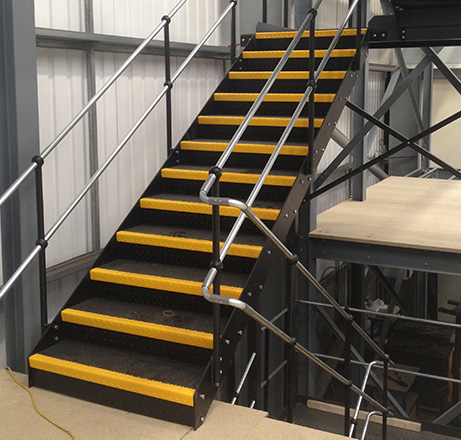 Staircases
A staircase must be durable and safe. Our range of straight or with landing staircases are both.
Design & Installation
After an initial consultation and site visit our advisers utilise the latest CAD facilities to design your mezzanine floors allowing us to lay out the optimum mezzanine flooring area in your building.

To complement our mezzanine flooring offering we also provide space planning and design services, providing full fit out and refurbishment of office, shelving and other work space requirements.
Installation of your mezzanine flooring or partitioning system can be arranged as quickly as possible to suit your requirements minimising disruption to your business operation.
We have been designing and installing mezzanine floors for over 20 years. Our projects range from small, single storey floors right through to large, multi-tiered installations often growing the mezzanine in line with our customer's own expansion
LOGISTICS
A national office supplies distribution centre improves its storage to deliver a next day service for customers.
RACKING | MEZZANINE FLOORS | SHELVING
LOGISTICS
Automotive parts supplier adds mezzanine, racking and shelving to secure 240,000 lines for next day delivery.
RACKING | MEZZANINE FLOORS | SHELVING
Are your warehouses being used as effectively as possible?
The answer is probably no...
Most organisations can improve the efficiency of their facilities, whether as part of a periodical usage audit or a strategy for expansion and service improvement. Storage space utilisation, products accessibility, as well as the movement of people and stock throughout the whole site.